Dress up like a zombie and shuffle through downtown!
10am: Meet at the lower level of Galleria White Plains food court in your zombie gear, and get free finishing touches to your monster makeup! First come first served.
Noon: Walk promptly begins at the Galleria White Plains food court, and moves throughout downtown White Plains!
Enjoy:
​Spooky special offers from select stores and restaurants
Freakish photo opportunities
Creepy contests
More for the undead of all ages!
Read the Zombie Walk FAQs here.
View photos from the 2019 Zombie Walk here.
Face painting will be done inside. NYS recommends indoor masking for anyone age two and older who has not been vaccinated against COVID-19. Social distancing is recommended during the Zombie Walk.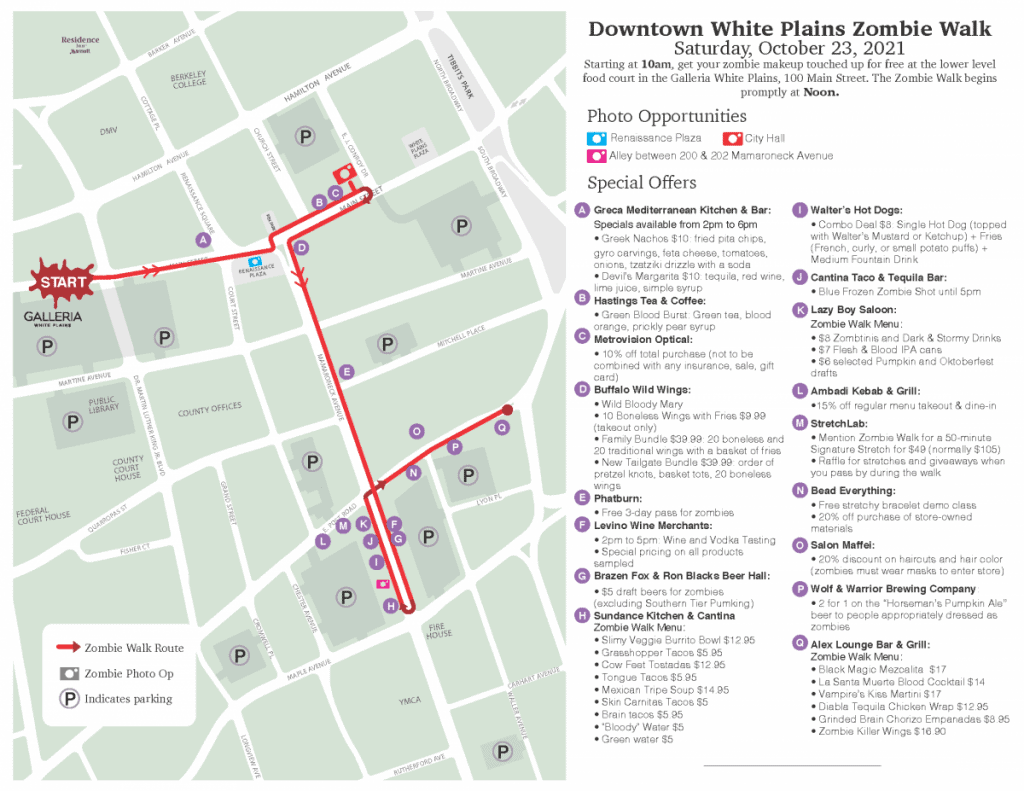 ---
Special Offers for Zombies on October 23
Alex Lounge Bar & Grill
213 East Post Road, (914) 358-9227
Zombie Walk Menu:
• Black Magic Mezcalita $17
• La Santa Muerte Blood Cocktail $14
• Vampire Kiss Martini $17
• Diabla Tequila Chicken Wrap $12.95
• Grinded Brain Chorizo Empanadas $8.95
• Zombie Killer Wings $16.90
Ambadi Kebab & Grill
141 East Post Road, (914) 686-2014
• 15% off regular menu takeout & dine-in
Bead Everything
175 East Post Road, (914) 644-8191
• Free stretchy bracelet demo class
• 20% off purchase of store-owned materials
Brazen Fox
175 Mamaroneck Avenue, (914) 358-5911
• $5 draft beers for zombies (excluding Southern Tier Pumking)
Buffalo Wild Wings
1 Mamaroneck Avenue (914) 385-9453
• Wild Bloody Mary
• 10 Boneless Wings with Fries $9.99 (takeout only)
• Family Bundle $39.99: 20 boneless and 20 traditional wings with a basket of fries
• New Tailgate Bundle $39.99: order of pretzel knots, basket tots, 20 boneless wings
Cantina Taco & Tequila Bar
166 Mamaroneck Avenue, (914) 461-3959
• Blue Frozen Zombie Shots until 5pm
Greca Mediterranean Kitchen & Bar
189 Main Street, (914) 448-8800
Specials available from 2pm to 6pm:
• Greek Nachos $10: fried pita chips, gyro carvings, feta cheese, tomatoes, onions, tzatziki drizzle with a soda
• Devil's Margarita $10: tequila, red wine, lime juice, simple syrup
Hastings Tea & Coffee
235 Main Street, (914) 428-1000
• Green Blood Burst: Green tea, blood orange, prickly pear syrup – helps improve immune system and boost up cognitive focus so you'll be ready for the hunt of the day!
Lazy Boy Saloon
154 Mamaroneck Avenue, (914) 761-0272
• Zombtinis and Dark & Stormy Drinks $8
• Flesh & Blood IPA cans $7
• Selected Pumpkin & Oktoberfest drafts $6
LeVino Wine Merchants
171 Mamaroneck Avenue, (914) 949-8466
• 2pm to 5pm: Wine and Vodka Tasting
• Special pricing on all products sampled
Metrovision Optical
245 Main Street, (914) 682-4200
• 10% off total purchase (not to be combined with any insurance, sale, gift card)
Phatburn
47 Mamaroneck Avenue, (914) 946-0717
• Free 3-day Zombie Trial Pass
Ron Blacks Beer Hall
181 Mamaroneck Avenue, (914) 358-5811
• $5 draft beers for zombies (excluding Southern Tier Pumking)
Salon Maffei
182 East Post Road, (914) 428-3555
• 20% discount on haircuts and hair color (zombies must wear masks to enter store)
StretchLab
147 East Post Road, (914) 400-2004
• Mention Zombie Walk for a 50-minute Signature Stretch for $49 (normally $105)
• Raffle for stretches and giveaways when you pass by during the walk
Sundance Kitchen & Cantina
208 Mamaroneck Avenue, (914) 946-2300
Zombie Walk Menu:
• Slimy Veggie Burrito Bowl $12.95
• Grasshopper Tacos $5.95
• Cow Feet Tostadas $12.95
• Tongue Tacos $5.95
• Mexican Tripe Soup $14.95
• Skin Carnitas Tacos $5
• Brain Tacos $5.95
• "Bloody" Water $5
• Green Water $5
Walter's Hot Dogs
186 Mamaroneck Avenue, (914) 397-9406
• Combo Deal $8: Single Hot Dog (topped with Walter's Mustard or Ketchup) + Fries (French, curly, or small potato puffs) + Medium Fountain Drink
Wolf & Warrior Brewing Company
195 East Post Road, (914) 368-8617
• 2 for 1 on the "Horseman's Pumpkin Ale" beer to people appropriately dressed as zombies
---
Answers to the most popular zombie walk related questions.
 
What is the White Plains Zombie Walk?
The White Plains Zombie Walk is a fun event for all ages to celebrate the undead!
From Wikipedia:
A zombie walk is an organized public gathering of people who dress up in zombie costumes. Participants usually meet in an urban center and make their way around the city streets and public spaces (or a series of taverns in the case of a zombie pub crawl) in an orderly fashion.
Read the full "Zombie Walk" article at Wikipedia: https://en.wikipedia.org/wiki/Zombie_walk
When is the White Plains Zombie Walk?
The White Plains Zombie Walk will be held on Saturday, October 23rd, 2021.
Where and what time does the Zombie Walk start?
Where: The starting location will be at Galleria White Plains (lower level at the food court) at 100 Main Street.
Time: The festivities will begin at 10am at Galleria White Plains. Between 10:00am and noon, we will:
  •  Put finishing touches on zombie makeup
  •  Explain the rules
  •  Answer any questions
At noon, we will leave The Galleria and the Zombie Walk will begin.
Galleria White Plains
100 Main Street
White Plains, NY 10603
galleriaatwhiteplains.com
Is this a free event?
It is free to receive makeup touch ups and to shuffle with the group through downtown. Various establishments along the route of the walk will have free, discounted, or special offers in which you may choose to participate.
Do I have to register to participate?
You don't have to register, but we did setup a Facebook Event page where you can let us know you will be joining us.
Will food be available?
Yes. Food can be purchased at the Galleria Food Court and at any point during the Zombie Walk. Many businesses along the route and in the downtown will have special discounts and offers for Zombie Walkers.
Should I arrive dressed up as a zombie?
Yes, absolutely!
Should I come with my own makeup done?
Yes. We will have our zombie team on hand to apply finishing touches to your makeup. First come, first served.
Do I have to dress up like a zombie, or can I wear any costume?
Please come dressed as a zombie. Other costumes are welcome, but they should attempt to be somewhat scary or "zombified" if possible.
Can I come just to watch?
Yes! While you're there, make sure to take pictures and tag @shopgalleriawp, @whiteplains.bid, @hauntatrockyledge, #WPZombieWalk, #GalleriaGhouls on Instagram.
Can I join the walk late?
Yes. If you need to catch up with us late, check the map to see the Zombie Walk route. We won't be easy to miss!
How far of a walk will it be?
About 3 miles. Be sure to wear comfortable shoes.
Who can participate in the Zombie Walk?
You! The Zombie Walk is open to people of all ages.
Can I drop my child off at the Zombie Walk?
No, all children must be accompanied by an adult.
Is the Zombie Walk kid friendly?
Yes! The Zombie Walk is a family-friendly event, but keep in mind that some costumes may be scary for some children.
Can I bring my dog to the Zombie Walk?
Dogs are allowed outside on sidewalks during the Zombie Walk. They must be leashed and well behaved!
Can we scare people?
Use your judgment when scaring unsuspecting members of the public. Do not touch people without permission, or property such as store windows or car windows.
Where can I view the photos of the Zombie Walk?
Wait a few days and check back to this site for the new photos to be posted. Alternatively, the photos will posted on the White Plains BID Facebook page at facebook.com/WhitePlainsBID/
---
---