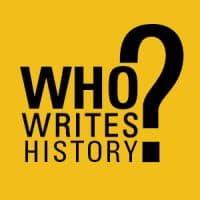 What is the "Truth"? Is there one Truth or many? Who "owns" history? Does it belong to the writers and those written about or do we all have a share as a collective? These questions are what ArtsWestchester explores in "Who Writes History?", an exhibition that foregrounds a more inclusive recounting of the past and present. Supported in part by the National Endowment for the Arts, participating artists explore how images and language (together and independently) shape our collective memory and mainstream narratives. Co-curated by Randy Williams.
Gallery Hours:
Wednesday – Friday | 12pm – 5pm
Saturday | 12pm – 6pm
Sunday | 12pm – 5pm
Public Programs:
Dive deeper into the themes and artwork of "Who Writes History?" in this series of in-person and virtual programs. Space for in-person events is limited – advance and early registration is encouraged to ensure your spot! For program dates & details click here.
Members Reception:
Saturday, April 23 from 3pm to 6pm
Visit artsw.org/membership to become a member. Drinks will be served. Gallery capacity will be limited, so reserve your tickets today.
By: ArtsWestchester
---
---