Court Street between Main Street and Martine Avenue
December 9th – 18th, 12 pm – 7 pm daily, 8 pm on Friday and Saturday Nights

The Market, which is free to attend, will feature 50+ artisanal vendors from across Westchester County. Come by to find interesting and unique gifts for everyone on your holiday shopping list, as well as enjoy food prepared by some of Westchester County's finest eateries. Make a day of it by booking a dining igloo. Shop at all of the vendors as well as the local downtown businesses, and then return to your igloo to eat, drink, and relax.


Featuring 50+ vendors & artisans: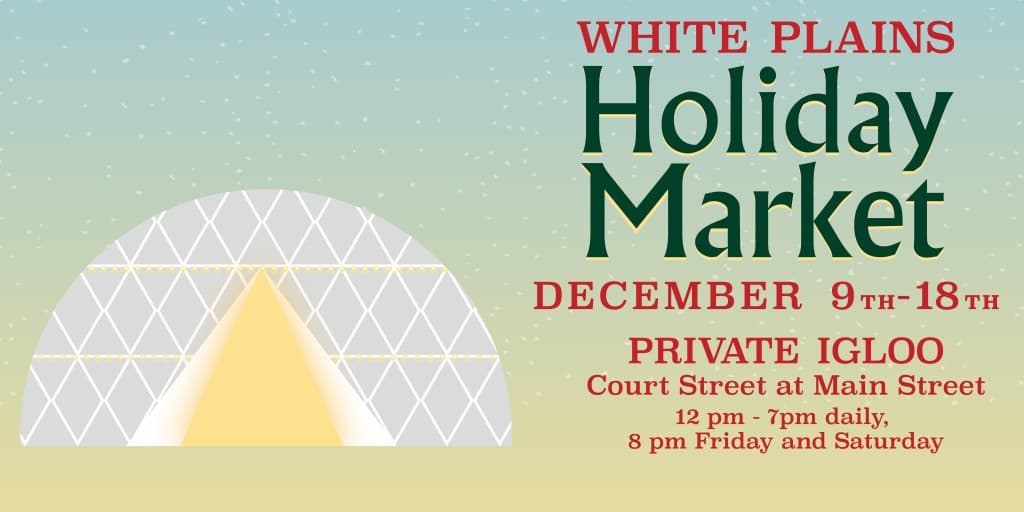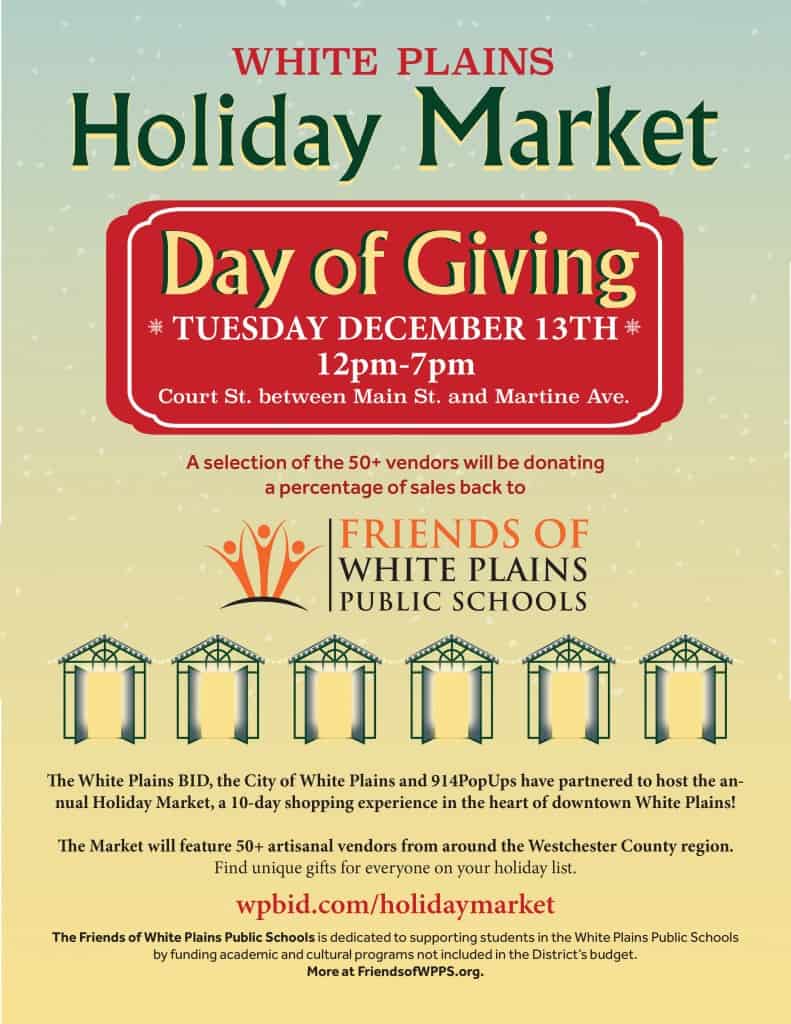 Activities being held at the market: 
December 10

Professional Photographer Natalia Degiulio. Register Here.
Face painting for children. 2 pm – 4 pm Charged per kid.
Bach to Rock. Open mike from 2 pm – 4 pm. 


America's Music School will be at the White Plains Winter Fest on December 10th! Come rock out with us as we bring the fun with live music performances from our very own students and different musical activities at our booth! Kids and parents are welcome to explore our Musical Petting Zoo with live instruments, spin the wheel prizes, and see how much fun music can be! At Bach to Rock, we offer music lessons, group classes for kids and adults, and camps and birthday parties! With our fun and beginner-friendly approach, it's never too early or too late to get started with music!"

David Daly 5 pm


David Daly is a mental health professional by day who lives in White Plains, NY. He is married with two children and a dog. At night he enjoys playing acoustic guitar and singing Dylan, Stones, Clapton, and other classic country folk rock. Come sing along with some of your favorite Christmas, Hanukkah, Grateful Dead, and Beatles tunes. Make sure you check out all the amazing vendors including his beautiful wife Sandy Daly selling Origami Owl jewelry.

Nick Trombetta 7 pm


An unusual combination of professions has Nick Trombetta wrapped into one person. He has had a lifetime of musical performance as a professional singer/pianist/keyboardist, starting with his piano lessons at only 10 years of age. While thriving in his musical career, Nick found his daytime calling in becoming a stylist/colorist beginning at Vidal Sassoon in 1982. In 2000, his wife established Salon Maffei on Mamaroneck Avenue. In 2015, Salon Maffei was moved to a new location into their own building on Post Road, one of the last art deco Buildings in Westchester County. The original site for the once White Plains Federal, Savings and Loan Association, a bank established in 1917 and moved to the Post Road location in 1940. Nick continued his musical profession, by being a member of one of the top musical bands, "The Next Step", until he retired from it in 2016 to continue what he had started in the early '90s, by now pursuing his educational career as an Artistic National Director for one of the leading Hair color manufacturers in Milan Italy. This chapter took Nick traveling throughout the world to be featured as one of the top hair colorists internationally. He's also had the opportunity to be in two movies, "The Dash" which was released in 2016, and "Time", which will have its premiere debut at the Pelham Picture House before the end of this year. His background is also in the arts and writing. Last year he published a children's novel which can be found on Amazon, "The Real Santa story …and the Santa Secret". Nick is also an ordained wedding officiant for the past 10 years. But his greatest love is his wife and daughter, Janeen who is his beautiful partner and the fuel for his journey, as they both work feverishly to raise and guide their most precious daughter Nicole. In Nick's words, "Without Janeen, I would not be where I am today, and Nicole is my oxygen and the air I breathe." His life may read like confusion on paper. Still, as Nick would say, "Every day I wake up with God and ask, what are we going to be today Lord?" He wishes you all his best sentiments and for a healthy and most beautiful Season of giving and receiving through the Joy of Christmas.
December 11

Professional Photographer Natalia Degiulio. Register Here.  

Craig Sidley 1 pm – 3 pm


A White Plains resident for 17 years has been playing the tri-state area in lounges, bars and restaurants, and private events since moving to the area in 2005. He is currently working on recording an album of what he describes as, jam-pop. His influences, which are the musical acts he prefers to cover, include old and current blues artists, classic rock, and classic folk. In addition to music, Craig sells real estate and just finished a 4-year middle and high school teaching career

Face painting for children. 2 pm – 4 pm Charged per kid. 
 Mila Tomlin 4:00 pm – 4:30 pm


Mila Tomlin was born and raised in White Plains, NY. She is 13 years old and attends Highlands Middle School. Mila enjoys surfing and boxing. Her passion is singing and songwriting.

Santa Photos. Take photos with Santa Claus 4:30 pm – 6:30 pm
Tree Lighting Ceremony at 5:30 pm in Renaissance Plaza.
The Westchester Chordsmen are coming to sing holiday songs
White Plains High School Marching Band

Build up White Plains by supporting local businesses!
This year's, Holiday Shopping is on November 26th, but you can shop small any time! You're helping boost our local economy and preserve our community when you shop and eat at small, independently-owned businesses. Support the White Plains community by shopping locally this holiday season! #BuildUpWhitePlains
Check out Holiday Shopping Special Offers in Downtown White Plains




Silver Sponsors:
Apple Bank
Cambria Hotels
Chosen Decor Events
The Gino Bello Homes Real Estate
Saber Real Estate North LLC
Soul Soundz Production
Manor Sangria
The Mitchell Apartments by Quarterra
---
---