Stroll around the downtown sampling different chicken wing flavors at a variety of restaurants, then rate each one to help us determine the best wings in downtown White Plains! Sample two wings at each participating restaurant
Online ticket sales end on Friday, April 21 at 11:59 pm. Event day ticket sales are extremely limited, so get your discounted tickets below in advance to guarantee entry. FAQs


General Admission: $25 online, $28 day-of
Children Ages 5 – 10: $18 online, $20 day-of
Children Under 5: Free
All tickets are non-refundable.
Participating restaurants:
Alex Lounge Bar & Grill
1) Cilantro Lime 2) Holy Mole
Archie Grand
1) Classic Buffalo Wings 2) Tamarind Chipotle Wings
Brazen Fox
1) Buffalo 2) Stingin Honey Garlic
Buffalo Wild Wings
1) Salt and Vinegar 2) Honey Garlic
Cantina Taco & Tequila Bar
1) Lemon Pepper
Delicias Del Jireh
1) Ceviche Wings
Hudson Grille
1) Garlic Parmesan 2) Curry, Saki & Teriyaki
Lazy Boy Saloon
1) Tequila Citrus 2) Sweet Bourbon Buffalo
Lilly's
1) Soy Lemon Grass 2) Habanero Mango
Mario's Pizza
1) Hot Buffalo 2) Honey BBQ
Ron Blacks Beer Hall
1) Nashville Hot Wings
Sundance Kitchen & Cantina
1) Mango Habanero 2) Al Pastor
Tepe's Kitchen
1) Thai Peanut 2) Chipotle Blueberry
TVB by Pax Romana
1) Chicken Scarpariello
Wolf and Warrior Brewing Company
1) Hazy IPA Buffalo 2) Japanese BBQ with ginger & wasabi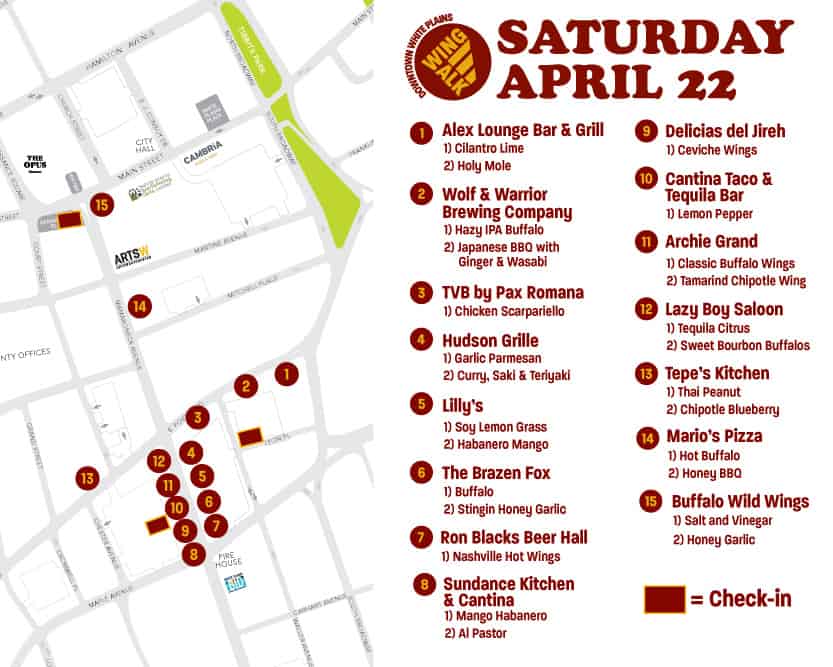 ---
Check-In and Voting Instructions
On April 22, all ticket holders must check-in, up to 15 minutes before their start time, at a check-in location to pick up their wristband and map. You will not be able to sample wings without a wristband. Guests are encouraged to rate each tasting on a digital ballot that can be accessed through the QR code on your map. All votes must be received by 5:15 pm on Saturday, April 22. The winner will be announced on our social media that same night!
Check-in locations:
• Renaissance Plaza at Main Street and Mamaroneck Avenue
• Entrance to the Chester-Maple Garage between 202 and 206 Mamaroneck Avenue
• Lyon Place Garage entrance at the corner of Lyon Place and Waller Avenue
Sponsored by:

---
FAQs
I am having difficulty purchasing my ticket. What can I do?
If you are having any issues purchasing your ticket, try another browser or purchase your ticket 
here
 For additional assistance, contact 
events@wpbid.com
What do I get for my ticket?
Your ticket will get you a wristband for a designated 2-hour time slot
where you can try two chicken wings at each of the 15 participating restaurants (30 wings total) 
a map
allowing you to chart your course
,
and (because we know you can't get enough chicken) a voucher* to return later in the week at your favorite wing walk restaurant for an additional FREE OF CHARGE ½ dozen wings
(Dine in only, unless indicated), to redeem at a participating restaurant.
We will also have free live music outdoors in front of 202/206 Mamaroneck Avenue for part of the day to make it a squawkin' good time.
*To redeem the voucher, please present the voucher, attached to your map, to the restaurant.Vouchers can only be redeemed at a participating restaurant from Sunday, April 23rd – Friday, April 28th. Please check with each restaurant for their hours of operation.
Will I need to pay extra to try the wings?
You will not need to pay extra for the wings. Your wristband entitles you to two wings at each of the 15 participating restaurants, within your time slot. You MUST get your wristband at one of the check-in tables before you can get your wings. You are welcome to make other purchases while you are visiting restaurants.
Can I eat wings after my time slot has ended?
Yes, but you must pay for them directly at the restaurant.
Do I need to print my ticket?
You do not need to print your ticket. You can show us your ticket on your phone at one of the check-in tables on the day of the event.
Can I purchase tickets on the day of the event?
Yes, there will be a limited amount of tickets available for purchase on the day of the event at a slightly higher price point. Cash and credit cards are accepted but it is highly recommended to purchase your tickets in advance.
Where is the event located?
The event is located in downtown White Plains—think of it as a "wing trail" where you travel to each of the participating restaurants to partake. After you get your wristband and map from a check-in table, you will then go to the participating restaurants, in any order. There will be a designated area in each restaurant for you to pick up your wings. Don't forget to rate the flavor on your digital ballot to help us determine which restaurant has the best wings.
Where are the check-in locations?
There are THREE check-in locations.
• Entrance to the Chester-Maple Garage between 200 and 202 Mamaroneck Avenue
• Garage entrance at the corner of Lyon Place and Waller Avenue
• Renaissance Plaza at Main Street and Mamaroneck Avenue
How do I vote?
Ticketholders will receive a map with a QR code to a digital ballot. Scan the QR code with your smartphone and rate each sampled wing flavor from one to five on your digital ballot. Please have all votes in by 5:15 pm.
When will the winner be announced?
The results will be announced on the night of Saturday, April 22.
Can I stroll through the streets with an alcoholic drink?
No, White Plains has open container laws as in many other communities. However, you are welcome to enjoy a drink at a participating establishment.
---
---