CANCELLED April 18: Wing Walk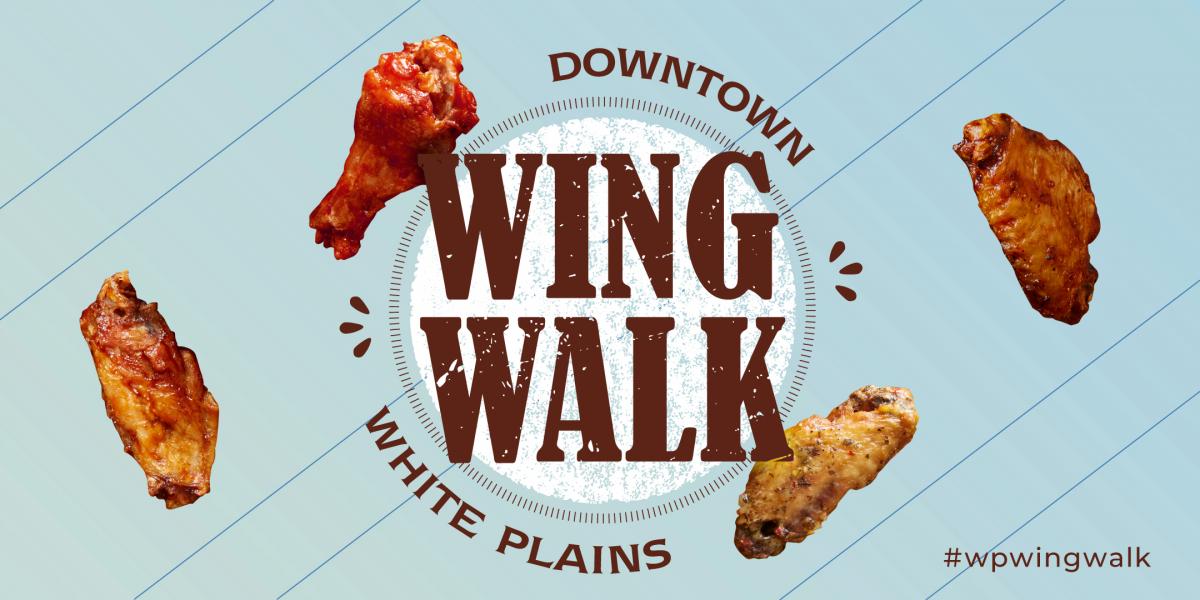 The Wing Walk has been cancelled in an effort to heed the recommendation of halting large gatherings/events.
All purchased tickets have been refunded in full. Thank you for your understanding.
---
Saturday, April 18
Noon - 5 pm
Rain or shine
Stroll around Downtown White Plains sampling chicken wing flavors at a variety of restaurants, then vote for your favorite!
On April 18, all ticket holders must check in at one of the check-in locations before beginning the stroll to pick up their wristband, ballot, and map. You will not be able to sample wings without a wristband. Guests must sample more than one wing flavor in order to cast their vote. All votes must be received by 5:15pm on Saturday, April 18. The winner will be announced on our social media that same night!
Check-in Locations:
• Renaissance Plaza (Mamaroneck Avenue at Main Street)
• Alley between 200 & 202 Mamaroneck Avenue
• Waller Avenue at Lyon Place (Lyon Place parking garage entrance)
Online ticket sales end on Friday, April 17 at Noon. Event day ticket sales are extremely limited, so get your discounted tickets below in advance to guarantee entry. Tickets purchased at the check-in tables on Saturday, April 18 are priced at: $25 for general admission and $15 for children 6-12ys. old. Cash only. All tickets are non-refundable.
Participating restaurants include:
•  Alex Lounge Bar & Grill
•  The Brazen Fox
•  Buffalo Wild Wings
•  Cantina Taco & Tequila Bar
•  Caribbean Thyme
•  Delicias del Jireh
•  Freebird Kitchen and Bar
•  Hudson Grille
•  Lazy Boy Saloon
•  Little Drunken Chef
•  Mario's Pizza
•  Ron Blacks Beer Hall
•  Sundance Kitchen & Cantina
•  Wolf & Warrior Brewing Company
Wing Walk Map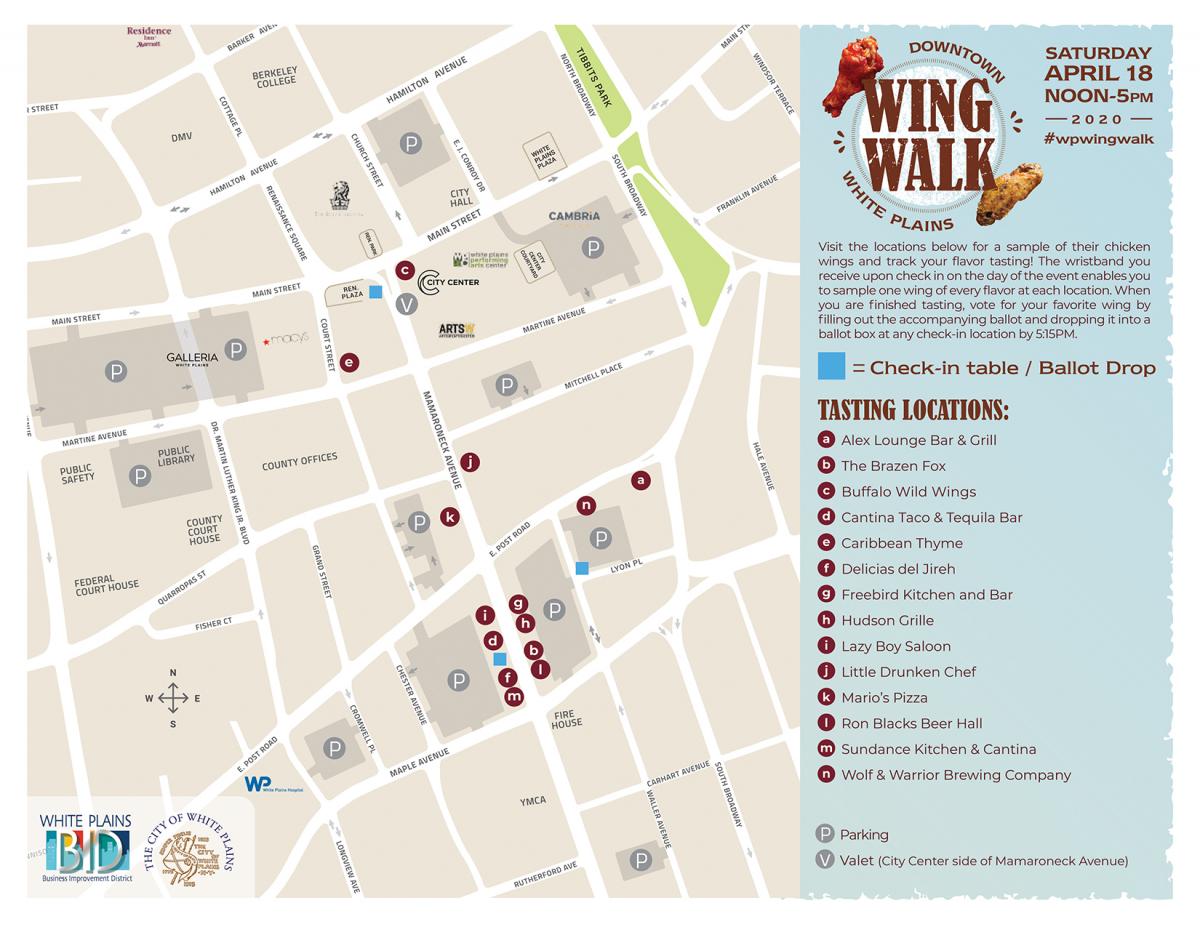 ---
F.A.Q.
What do I get for my ticket?
Your ticket will get you a wristband, ballot, and map.
Will I need to pay extra to try the wings?
You will not need to pay extra for the wings. Your wristband entitles you to one wing of each flavor. You MUST get your wristband at one of the check-in tables on the map before you can get your wings. You are welcome to make other purchases while you are visiting restaurants.
Do I need to print my ticket?
You do not need to print your ticket. You can show us your ticket on your phone at one of the check-in tables on the day of the event.
Where is the event located?
The event is located in each of the participating restaurants. After you get your wristband, ballot, and map from a check-in table, you will go to the participating restaurants in any order. There will be an area at each restaurant for you to sample your wings and check them off your ballot.
Where are the check-in locations?
There are THREE check-in locations.
• Entrance to the Chester-Maple Garage between 200 and 202 Mamaroneck Avenue
• Garage entrance at the corner of Lyon Place and Waller Avenue
• Renaissance Plaza at Main Street and Mamaroneck Avenue
How do I vote?
Ticketholders will receive ballots at the check-in tables. When you are finished sampling your wings, write your favorite flavor and restaurant on the bottom of the ballot and return it to one of the check-in tables.
Newsletter
Our newsletter, loaded with current information, comes out once a week... it's yours for just signing up!