October 7-10: Virtual OktoberFest

The 12th annual White Plains OktoberFest is going virtual! The online series will be packed with German-related fun and festivities. Treat yourself to:
•  Beer and wine tasting
•  German cooking tutorial
•  Seasonal takeout and delivery specials from downtown restaurants
•  Activities for families and kids
•  Virtual contests with prizes
Programs and events will be held via Facebook Live and Zoom.
Virtual OktoberFest Schedule:
Wednesday, October 7: #WineWednesday • Wine Tasting with LeVino Wine Merchants
5pm on Facebook Live
Join LeVino Wine Merchants as they walk you through a tasting of German & Austrian wines. Purchase the tasting bundle ahead of time at LeVino Wine Merchants or call (914) 949-8466.
To enhance your wine tasting you may purchase the Classic Alpine Cheese Fondue from The Melting Pot for $22. Orders can be placed here.
Thursday, October 8: Virtual Cooking Tutorial
6:30pm on Facebook Live
Watch Westchester food blogger BreakfastAteTiffany as she prepares Walter's Hot Dogs' pretzel bun & Obatzda (Bavarian cheese dip) alongside their DIY hot dog kit. She will also walk viewers through a traditional beer drink and a kid-friendly drink.
Get your own hot dog kit from Walter's Hot Dogs ($16.99) and follow along!
(914) 397-9406
186 Mamaroneck Avenue, White Plains, NY
Friday, October 9: #HappyFriday • Beer Tasting with Wolf & Warrior Brewing Co.
4pm on Facebook Live
Join White Plains' own microbrewery for a virtual beer flight tasting!
• Buy the tasting bundle ahead - 4 crowlers for $44*
• $3 salted pretzels if you mention the virtual tasting
• Auntie Anne's Pretzel Making Kits for $22 (regular price $25)
*Bräufest 7.2% abv, Oktoberfest Marzen | Cologne Kontrakt 5.4% Kolsch Bier | Hero's Helles 4.7% German Helles Lager | Warrior's Harvest Fresh Hop American IPA
Order the tasting bundle online.
To order beer AND pretzel kits, use the link above. If ordering just the beer bundle, use link, call (914) 368-8617, or email mike@wolfandwarrior.com. One-stop pickup at Wolf & Warrior Brewing Co. for all items. Pick up is available Thursday, October 8 from 2:30pm - 8:30pm OR Friday, October 9th from 12:30pm - 3:30pm.
21+ to order, must have Valid ID. Delivery not available.
Saturday, October 10: Family Fun Day
3pm - 4pm on Zoom: Beginner German Language Lesson with the German International School
Get a free virtual introduction to the German language from White Plains' own German International School New York. Children of all ages will learn basic German phrases in a fun and interactive way. Auf geht's!
Class will be held via Zoom from 3pm – 4pm. Register on Eventbrite to receive the Zoom link!
All Day: Downtown White Plains scavenger hunt
• Grab a phone and explore our downtown! Find 10 of the items listed below & take a clear picture.
• When you have 10 pictures, message White Plains BID on Facebook or Instagram or email your pictures to events@wpbid.com
The first person to send us 10 of the 12 pictures wins a $25 gift card to King Crab restaurant!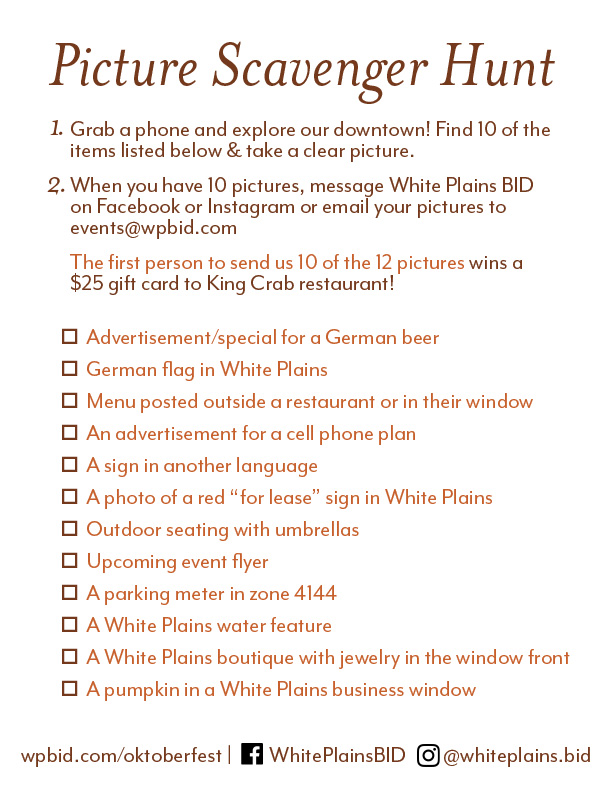 Featured Menu Items and Takeout Specials
Oktoberfest and German-related food & drink specials from downtown White Plains restaurants and establishments.
• Auntie Anne's: At home pretzel kit $22 (regular price $25) Must be pre-ordered
(845) 527-8134
• The Brazen Fox: Giant Bavarian Pretzel - $12 | Beer Cheese Fries - with cheddar ale sauce $8 | German Brat Burger - beef patty topped with bratwurst, sauerkraut, and side of German mustard; with hand cut fries $16 | Pork Schnitzel - Thin fried cutlets topped with German red cabbage and served with mashed potatoes $20 | German Meatballs - Beef meatballs with sauerkraut over egg noodles over classic brown gravy $18
(914) 358-5911
• Buffalo Wild Wings: 10 boneless wings + fries $9.99 | 10 traditional wings + fries $12.99 | 20  boneless wings + fries $21.49 | 20 traditional wings + fries $26.99 | 30 boneless wings + fries $24.99 | 15 traditional wings & 15 boneless wings + fries $29.99
(914) 358-9453
• Cantina Taco & Tequila Bar: Modelo Beer Battered Fish Tacos – pico chipotle mayo, shredded red cabbage
(914) 461-3959
• Delicias del Jireh: The Delicioso - One whole chicken accompanied by three large sides of your preference: Fried rice, yucas fries, sweet plantains, tostones, steam vegetables. $23.00
(914) 437-5375 & (914) 437-5374
• Freebird Kitchen & Bar: Brick Chicken - 1/2 chicken de-boned, asparagus, mashed potato, lemon butter sauce
(914) 607-2476
• Gaucho Burger Company: Argentinian Salchipapas - grilled & sliced Argentinian sausage served with fries
(914) 750-4888
• Hastings Tea & Coffee Lounge: 10% off Homemade Hard Apple Cider | Broken Heart Stout (12oz), ABV 6.4% $4/can | Broken Routines Mosaic & Amarillo IPA (16oz), ABV 5.5% $6/can
(914) 428-1000
• Holy Crab: Fried Catfish Po Boy with cajun fries & salad
(914) 948-2888
• Hudson Grille: Beer Battered Calamari - green goddess, pickled red fresno chilis, herbs
(914) 997-2000
• The Iron Tomato: Reuben - corned beef, sauerkraut, Swiss cheese and stone ground mustard
(914) 328-9400
• Lazy Boy Saloon & Ale House: Ale Roasted Cheese Steak - Thin sliced beef braised in Belgian beer with caramelized onions, melted cheddar and monterey jack, and horseradish sauce on toasted French bread
(914) 761-0272
• Lilly's: Seared Salmon - Cous cous salad, tomato red pepper coulis, summer vegetables, herbs
(914) 997-5600
• The Melting Pot: Fondue Night In - Includes your choice of cheese fondue to share, one salad per person, your choice of choclate fondue to share, and one soft drink per person. $24.95/person (regular price $28)
(914) 993-6358
• Morton's The Steakhouse: The "Home Cookout" - 10 oz. Morton's Prime Beef Patties (packed raw/uncooked). brioche buns, cheddar cheese, lettuce, tomato, red onion, pickles and Morton's Special Sauce; hand-cut potato chips with blue cheese dressing; chef's house salad with red wine vinaigrette dressing; Morton's Specialties may be raw/in cryovac and accompanied by Morton's Seasoning Salt and grilling instructions so you can grill/cook in your home kitchen. $97.90 (8)
(914) 683-6101
• Purple Corn: Family Style Chicken - Whole rotisserie chicken served with three sides. Steriod and hormone free chicken.
(914) 339-0900
• Ron Blacks Beer Hall: Beer Pretzel - Soft baked warm pretzel with cheddar ale dip
(914) 358-5811
• Sundance Kitchen and Cantina: Grilled Drunken Joe Panini - Ham, grilled turkey, cole slaw, melted Swiss cheese & Russian dressing
(914) 946-2300
• Via Garibaldi: Free bottle of house wine (red or white) with any order $100 or more
(914)-468-1888
• Walter's Hot Dogs: Hot Dog Kits - each kit includes a 12 pack of hot dogs, 16 pack of buns, and a mustard jar for $16.99. | Pigs-in-a-Blanket (10) $7.95 | Pretzel Dog $4.00 | Funnel Cake Sticks $5.50
(914) 397-9406
• Whiskey Lounge: Mac & Cheese Gouda Bites - Macaroni covered in creamy smoked gouda, battered, fried, and served with marinara
(914) 761-0272
• Wolf & Warrior Brewing Co.: Bräufest 7.2% abv, Oktoberfest Marzen | Cologne Kontrakt 5.4% Kolsch Bier | Hero's Helles 4.7% German Helles Lager | Warrior's Harvest Fresh Hop American IPA
These beers are featured in the Virtual Beer Tasting on 10/7! To purchase the taste-along bundle, call (914) 368 - 8617.
---
OktoberFest playlist on Spotify!
Listen to the festive songs we have curated while you celebrate White Plains OktoberFest.

Newsletter
Our newsletter, loaded with current information, comes out once a week... it's yours for just signing up!