Dining & Nightlife
Alex Lounge Bar & Grill
213 East Post Road, (914) 358-9227
www.alexloungeny.com
---
The Blind Pig
174 Martine Avenue, (914) 607-2686
www.theblindpigofwestchester.com
Grog Time Happy Hour: Mondays - Fridays from 4pm - 7pm
Classic cocktail renditions, Irish coffees, highballs, wines, and beer all on special
---
The Brazen Fox
175 Mamaroneck Avenue, (914) 358-5911
thebrazenfox.com
---
Cantina Taco & Tequila Bar
166 Mamaroneck Avenue, (914) 461-3959
cantinawhiteplains.com
Happy Hour: Monday - Friday from 3pm - 7pm
Empanada Mondays: $2 empanadas all night, $6 Margaritas
Taco Tuesdays: $3 tacos from 3pm - closing
---
Don Coqui
107 Mamaroneck Avenue, (914) 576-7676
doncoqui.nyc/special-events
---
Freebird Kitchen and Bar
161 Mamaroneck Avenue, (914) 607-2476
www.freebirdkitchenandbar.com
---
Graziella's Italian Bistro
99 Church Street, (914) 761-5721
graziellasrestaurant.com
Happy Hour: Tuesdays - Fridays from 4pm - 7pm
---
Gyu Kaku
159 Main Street, (914) 358-5206
www.gyu-kaku.com/white-plains
Happy Hour:
Mondays all day
Tuesdays - Thursdays & Sundays from 11:30am - 6:30pm and 8:30pm - 10pm
Fridays & Saturdays from 11:30am - 6:30pm
---
Hard Luck Poolhall Bar & Lounge
195 East Post Road, (914) 607-2200
hardluckpoolhall.com
---
Hastings Tea & Coffee Lounge
235 Main Street, (914) 428-1000
www.hastingstea.com
Wine & Unwind Happy Hour: specialty wine drinks, Fridays & Saturdays from 5pm - 7pm
---
Hudson Grille
165 Mamaroneck Avenue, (914) 997-2000
www.hudsongrilleny.com
---
Ichiro Modern Japanese
80 Mamaroneck Avenue, (914) 205-5041
www.ichirofusion.com
Happy Hour: Mondays - Fridays from 3pm - 7pm
---
KEE Oyster House
126 East Post Road, (914) 437-8535
www.keeoysterhouse.com/
---
The King Crab
250 Main Street, 2nd Floor, (914) 848-4038
www.thekingcrab98.com
Happy Hour: Saturdays from 5pm - 8pm
---
Lazy Boy Saloon & Ale House
154 Mamaroneck Avenue, (914) 761-1106
www.lazyboysaloon.com
Happy Hour: Monday - Friday from 4pm - 7pm
$5 drafts (Bud Light, Brooklyn, Sam Seasonal, & select drafts)
$5 house wines, house Martinis, and well mixed drinks
$6 appetizers
$7 wings
$10 pizzas
$10 5-wings and draft beer
All Day Happy Hour: Mondays from 11am - 8pm
$5 select drafts, house wines, & Martinis
*Only at the bar with purchase of a food item
Burger & Craft Beer Night: Wednesdays
Get any specialty burger and craft beer for $20
---
Lilly's
169 Mamaroneck Avenue, (914) 997-5600
lillyswp.com
---
The Melting Pot
30 Mamaroneck Avenue, (914) 993-6358
www.meltingpot.com/white-plains-ny
Weekend Brunch: Saturday & Sunday from Noon - 4pm
3-course Weekend Brunch menu for $32.95. Add bottomless Mimosas, Sangrias, and Bloody Marys for $7. View details.
Thurs-date 4-Course Menu: Thursdays
Every week, The Melting Pot is turning Thursdays into Thurs-dates, with a romantic 4-course menu that includes cheese fondue, salad, premium entrees, and Sparkling Chocolate Fondue. Rose petals and a candle will be waiting at your table. $49.50 per person. Minimum of 2 required. View menu.
Melting Pot To-Go Fondue
Experience fondue in the comfort of home with The Melting Pot's new 4-Course Fondue Night In offered at a special, limited time price. Or, take away your fondue favorites à la carte including their creamy cheese fondue, fresh salad, new chef-prepared entrée skewers - the perfect complement to your salad and cheese courses, rich chocolate fondue and local beverage options. To-Go offered Friday & Saturdays from 4 pm - 8 pm and Sundays from 12 Noon - 6 pm. Learn more or watch this Instagram video for an unboxing from @themeltingpot_whiteplains on Instagram.
---
O'Connor's Public House
93-95 Mamaroneck Avenue, (914) 358-9145
www.oconnorshouse.com
---
Ron Blacks Beer Hall
181 Mamaroneck Avenue, (914) 358-5811
www.ronblacks.com
Touchless Trivia Tuesdays: Tuesdays at 8pm
Ron Blacks is bringing back Trivia Tuesdays in a new format for your safety and theirs. No paper or pens. Everyone will remain seated (except for entry/exit & bathroom breaks). All tables/ teams will be socially distanced. Teams of no more than 8 people.
---
Sundance Kitchen and Cantina
208 Mamaroneck Avenue, (914) 946-2300
www.sundancekitchen.com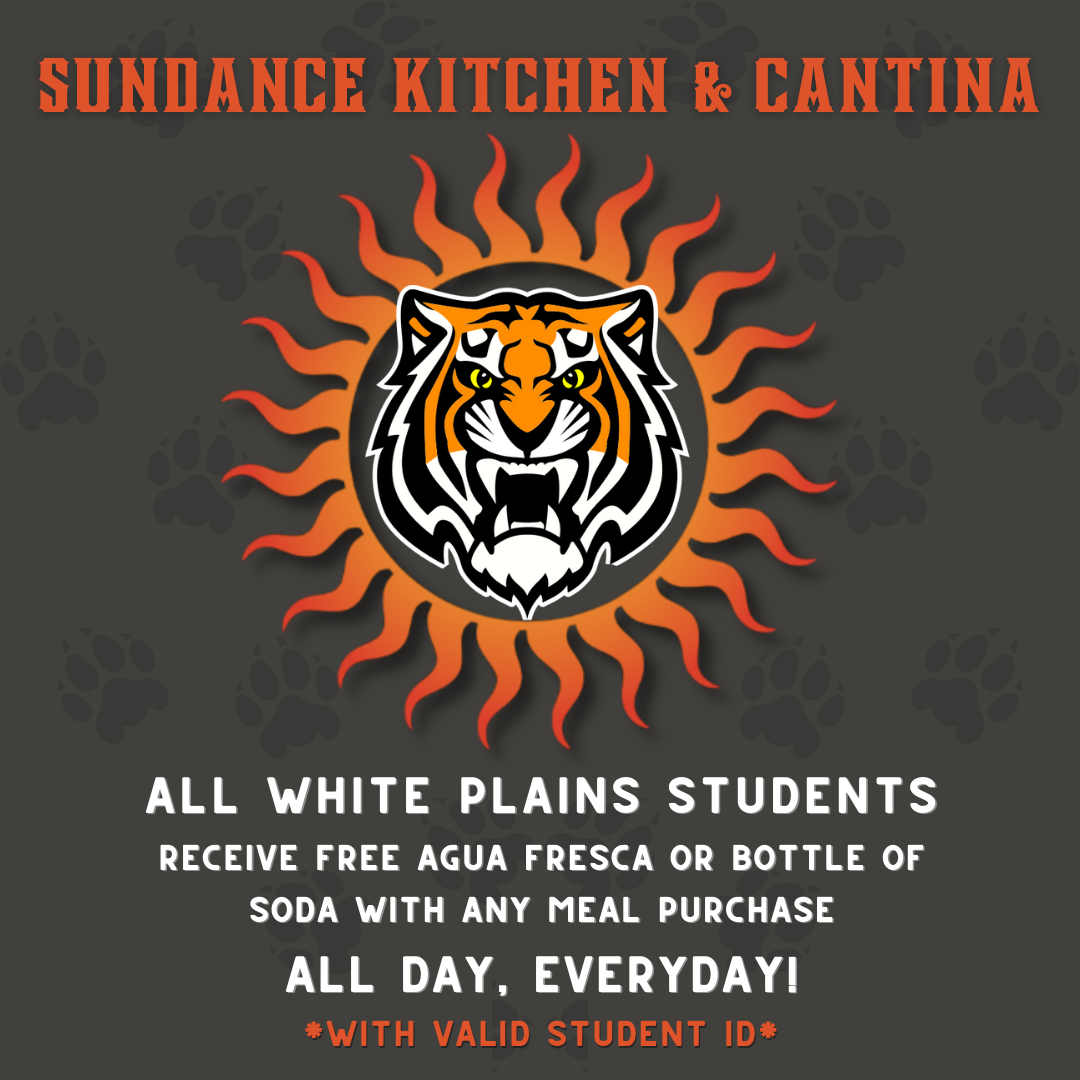 ---
TGI Fridays
250 Main Street, (914) 948-3209
www.tgifridays.com
---
Walter's Hot Dogs
186 Mamaroneck Avenue, (914) 397-9406
www.waltershotdogs.com
Hot Dog Kits: This kit comes with everything you need to recreate these dogs at home: hot dogs, buns, and special mustard. All you need to do is butter up your griddle. Call to order.
---
Whiskey Lounge
152 Mamaroneck Avenue, (914) 761-1106
---
Wolf and Warrior Brewing Company
195 East Post Road, (914) 368-8617
www.wolfandwarrior.com
Newsletter
Our newsletter, loaded with current information, comes out once a week... it's yours for just signing up!