CANCELLED March 14: St. Patrick's Day Parade
The parade has been cancelled.
UPDATE from the City of White Plains & the White Plains St. Patrick's Day Parade Committee: Saturday's St. Patrick's Day Parade in White Plains will not go forward. The White Plains St. Patrick's Day Parade Committee will be meeting in the days ahead to discuss a future celebration. This decision was not reached easily and came after discussions with medical experts, state, county, and public safety officials. We recognize that people will be disappointed by this decision (as are we), but our main focus is and must be the health, welfare, and safety of our residents, parade participants and attendees. After extensive review and consultation, we believe this is the prudent course. Thank you for your understanding.
Saturday, March 14 at Noon
Starting at Old Mamaroneck Rd. at Livingston Ave.
The White Plains Parade, like so many across the County and across the World, celebrates the contributions of the Irish people to humankind through their rich culture and music, their indomitable courage and spirit, and their legendary warmth and humor. The White Plains Parade has grown exponentially, and last year had Five Divisions, with over 26 musical performances, five floats, and 90 groups participating. Click here for more parade information.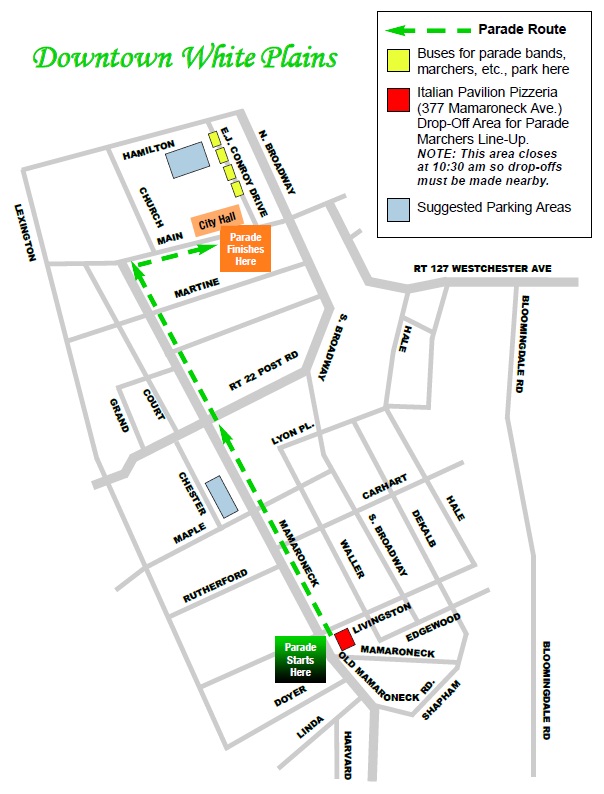 Newsletter
Our newsletter, loaded with current information, comes out once a week... it's yours for just signing up!