December 31: New Year's Eve 16-17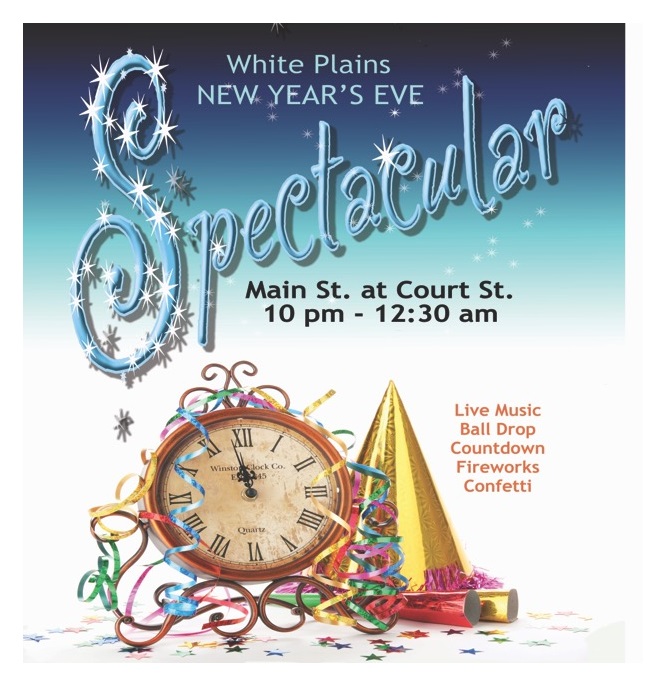 Starting at 10pm on December 31 at Main Street and Court Street, there will be a DJ and live music from Larger than Life, a group of versatile and nationally recognized performers who feature "The Ultimate Boyband Tribute, " singing hits from The Jackson 5, The Beatles, The Temptations, Four Seasons, Backstreet Boys, Nsync and many more. We will ring in the new year with a ball drop, confetti and a spectacular fireworks display at midnight.
 
There are Four Gated Entry Points to the event. Be sure to arrive early to expedite entry and enjoy the evening!
  •  Main St. at Church St.
  •  Renaissance Sq. at Williams St.
  •  Court St. at Martine Ave.
  •  Martine Ave. at Mamaroneck Ave.


HEINEKEN USA encourages revelers 21+ to always drink responsibly, and is providing free rides to residential destinations within Westchester County. Visit the Safe Rides transportation stand on the corner of East Post Road and Mamaroneck Avenue between 11 pm - 3 am. Open to New Year's Eve Spectacular attendees 21 and older!
Silver Sponsors:
Bettina Equities, Calano & Calano Realty/K.J. Ahlers, Cambria Hotels & Suites, Caspi Development, Hudson Grille, LCOR, Continuum White Plains, Lilly's, Minskoff Grant Realty & Management Corp., Vintage Lounge & Restaurant, Webster Bank, Westchester One
---
Vehicular access to nearby garages on New Year's Eve:
Lexington-Grove West Garage (Galleria – Sears side)
•  accessible from South Lexington Ave between Main St and Martine Ave
•  accessible from Main St between South Lexington Ave and MLK Blvd
•  accessible from Martine Ave between MLK Blvd and South Lexington Ave
Pedestrians may access and exit the garage by foot on Main Street, but must enter the NYE event area via the access gates at Renaissance and Williams.
Lexington-Grove East Garage (Galleria – Macy's side)
•  NO ACCESS
Hamilton-Main Garage
•  accessible from Hamilton Ave between Church St and Conroy Dr
•  accessible from E.J. Conroy Dr
White Plains Center Garage
•  accessible from Martine Ave between South Broadway and Mamaroneck Ave
•  accessible from South Broadway between Main St and Martine Ave
•  accessible via EJ Conroy Dr at Main St
Newsletter
Our newsletter, loaded with current information, comes out once a week... it's yours for just signing up!